Have the bus all to yourselves!
Booking a Private Tour is affordable and allows you to customize your experience with your friends and family.
Drink from a Glacier
Enjoy fresh filtered glacier water from Bridal Veil Falls in your free souvenir cup!
Family Friendly
Our excursions are perfect for all ages. We supply games and free prizes for the kids!
Local Guide
Raymie is a Certified Naturalist for the State of Alaska with over 20 years experience.
Safety
Our bus is thoroughly sanitized before every excursion
Spend the day your way!
Perfect For All Ages!
Why are you coming to the "Land of the Midnight Sun?"
Do you want to see the Last Frontier with your own eyes? Are you a lover of wildlife, hoping for the opportunity to see a bear up close and personal? Do you want to walk in the footsteps of history, where the Klondike Gold Rush lured men to seek their fortune? Have you ever wondered what it's like to be a dog musher who races the famed Iditarod? Do you want to pan for gold, like the old Klondike Sourdoughs?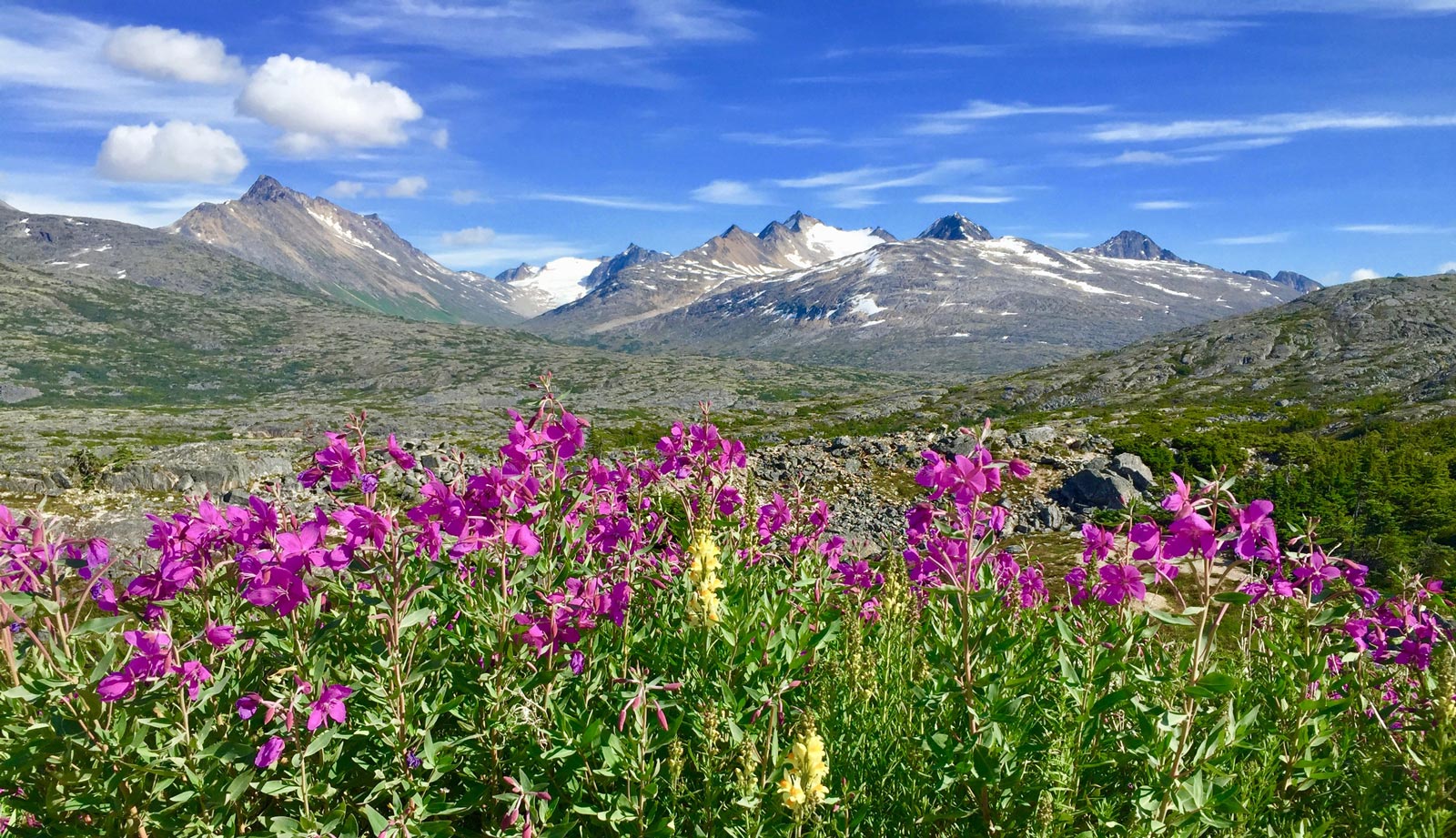 In Skagway, you can accomplish all of these goals on one tour.
Experience the Alaska of your dreams with Midnight Sun Excursions
We offer fully customizable tours from Alaska to the Yukon
With 22 years of local experience, Raymie Eatough is the only Certified Naturalist tour guide in Skagway offering private excursions.
None of our guest have ever missed their cruise ship – and we guarantee you won't either
We offer optional stops at Iditarod Musher Michelle Phillips' sled dog camp, where you can experience dog sledding for yourself
You can gold pan and strike it rich with guaranteed pay dirt
Your  group will travel in a comfortable tour bus, and receive a free souvenir cup from which you'll drink pure-filtered glacier water
A few words from your tour guide and owner of Midnight Sun Excursions, Raymie Eatough; "I came to Alaska at the age of 18. Growing up in Wyoming, I fell in love with the wilderness, but my father (who was also a guide) urged me to see Alaska because it was the 'true wilderness.'"
"I saved my money and bought a one-way ticket to Skagway. After turning 20, I was old enough to be insured and started guiding. I came to Alaska to experience the last frontier, and even after 20 years of guiding, every day is still an adventure."
"My Alaska story is still being written. Join me on a tour and make your own."
Space is filling up fast for the 2022 season. Call and reserve your tour today.
Just some of the things you'll see on your custom tour of Skagway and the Yukon
One of the best things about booking an independent tour, is that you have more freedom to do what you want, when you want. However, many so-called "independent tours" have the same rigid itineraries as the tours offered on the cruise ships. Tours with Raymie are more personalized and fluid. As a result, your tour will be unlike any other, and you'll have the opportunity to see and experience something truly unique.
Raymie's tours travel from Skagway to Emerald Lake in the Yukon Territory. Emerald Lake is a destination unto itself, as it's unique blue and turquoise water is both stunning and rare. Along the way, every twist and turn in the highway is another photo opportunity, so frequent stops allow you to see numerous sprawling vistas, all sorts of wildlife, and towering glacially-fed waterfalls. You will even stop at one of these waterfalls where Raymie will filter some glacier water for you to drink.
The wildlife we frequently spot on our Alaska/Yukon tours
As you travel north along the Klondike Highway, opportunities for spotting wildlife increase. At certain times of the year, seeing a bear, mountain goat, or caribou is virtually guaranteed. The wildlife you have a chance of spotting includes:
Brown bears
Black bears
Moose
Caribou
Mountain goats
Dall Sheep
Marmot
Fox
Wolf
Lynx
Ptarmigan (the Alaska state bird)
Eagles
Deer
When you see wildlife, Raymie will stop so that you can get photos. At some stops, mountain goats and Dall Sheep are often seen at higher elevations, so Raymie provides binoculars and a spotting scope for you to use.
"I still get excited whenever I see a bear or a moose, and I know it's a highlight for many of my guests. One of the advantages of being a tour guide is that I know where the best places to spot wildlife are throughout the year."
The history of the Gold Rush and the people who keep it alive
Your tour will traverse the same path used by many of the gold seekers who traveled this arduous route during the Klondike Gold Rush. You will stop at historic sites where you can take a photo and imagine what it like to traverse the endless mountain passes on foot.
You will also get to meet the many people who call the frontier their home. Famous Iditarod musher Michelle Phillips runs a sled dog camp next to a pristine glacial lake. Michelle placed 13th in this year's (2017) Iditarod, her eight time running the race and her best finish. Her stories help you better understand the frontier lifestyle, especially in the winter months when a dog team is used for far more than just racing.
You will meet many other people in Carcross, a small village just south of Emerald Lake, and at the place where you choose to enjoy lunch.
Contact us today to enjoy an authentic tour of Alaska and the Yukon
"I think my tour stands out because it's authentic. I want my guests to have time to soak in the landscape and enjoy a conversation with locals. One meaningful conversation can be far more memorable than a historical fact that's quickly forgotten."
There are some stops that we never miss on our Yukon/Skagway tours
What will you see when you take a tour with Raymie? Some of the places you'll pass are simply too good to miss, so these five locations always make the cut.
Bridal Veil Falls – One of a handful of amazing waterfalls you'll see on your tour, this one is special because you can get up close and personal to feel the power of the raging water and snap a few photos. This is a glacially-fed waterfall, so the water you see was frozen for hundreds of years and melted only minutes ago. Raymie will filter some of this water so that you can have the freshest, coldest, and cleanest drink you'll ever taste.
Welcome to Alaska sign – The alpine view here is stunning, but this is likely your opportunity to get a group photo in front of such a sign. We sometimes spot marmots and mountain goats at this location.
Tormented Valley – Stops in this area are like stepping into someplace out of a fairy tale. The stunning colors of wildflowers and lichen give way to expansive glacial lakes within the narrow corridor that separates the boreal forest from the alpine. In May and early June, black bears are frequently spotted in this area as they feed on blooming wildflowers.
Tutshi Lake – Have you ever seen those photos of Alaska that show the perfectly tranquil mountain setting? This is that place. Towering mountains frame a massive glacial lake where moose, caribou, lynx, and bear are frequently spotted.
Welcome to the Yukon sign – Did you ever think you would set foot in the mysterious Yukon Territory? The sign offers a great photo opportunity, but towering Dail Peak is home to numerous mountain goats and Dall sheep. Raymie frequently pulls out the spotting scope in this spot so that everyone gets a chance to see these majestic wild animals up close.
Popular tour stops for longer Yukon tours and custom Skagway tours
Depending on your time frame and interests, your tour can include some or all of these other highlights.
Michelle Phillips Sled Dog Camp – If you love dogs (and who doesn't?) you'll want to include a visit to this camp, where you can meet Michelle, learn about the World's Last Great Race, and even take a ride with the dogs. The backdrop here is stunning, and depending on the time of year you may even get to hold a husky puppy.
The World's Smallest Desert – Located near Carcross, the glacial silt that created this landmark is a great place to feel the sand between your toes, or go for a walk through the desert forest.
The Yukon Suspension Bridge – This attraction gets its name from its scenic location at the headwaters of the Yukon River. You can walk across the bridge, enjoy the view, or kick back and enjoy a cold beer under the Midnight Sun.
Emerald Lake – The lake gets its name from the stunning two-toned waters that defy description. Glacial silt creates this lake's unique appearance, and we guarantee that the photos you take here will get the most oohs and ahs from your friends in the Lower 48.
A few words about your Alaskan tour guide, Raymie Eatough
As the only private tour operator certified as a naturalist by the State of Alaska, Raymie is able to bring this landscape to life in a way that few other guides can. Raymie is a lover of the outdoors, and has worked as a hiking, rafting, biking, horseback riding, dog sledding, fly fishing, and kayaking guide. She has also worked with the train and helicopter tour companies in Skagway, providing her with a diverse background in every facet of life in our small northern town.
Raymie has also worked as a first responder, EMT, and volunteer for the local fire department, so your safety is assured when you step onto her tour vehicle. She has also served as a wilderness first responder, firefighter, wilderness firefighter, marine firefighter, swift water rescuer, and was a member of Skagway's Search and Rescue team.
"I am a tour guide because I love it. I get to meet people from all over the globe, and share my love of my big backyard to people who are eager to see it with their own eyes. My line of work is never boring. Since my background is diverse, I can customize tours in unique and exciting ways."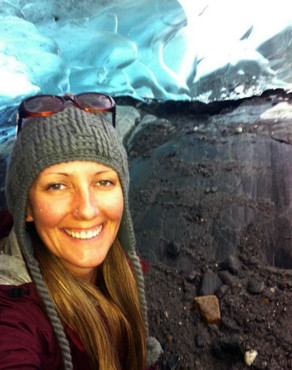 What we do when the weather is less than perfect
First, you should know that just because the weather may be poor in Skagway does not mean it will be equally bad in the Yukon. Skagway lies in a temperate rainforest, but as we travel north we pass through various micro climates, each with its own cyclical weather.
Probably the biggest advantage to touring with Raymie on these less-than-perfect days is that your tour can focus on the places where the weather is better while avoiding the areas that are wet or fogged in. Other tour options do not have this freedom, and it often makes the difference between a good day and a great day.
"My new bus is climate controlled with big windows and plenty of room for groups up to 14 people. When it rains, the bus offers a place to stay dry without missing out on any of the landmarks or wildlife."
Other things to do while you're in Skagway
You'll have plenty of time after your tour to enjoy some of the other sights and sounds of Skagway. Be sure to stroll down the boardwalk through Broadway's famous Historic District. You can stop for a pizza and beer at the Red Onion Saloon, and be sure to check out their amazing Brothel Museum Tour.
If you want more of the outdoors, enjoy the short hike from downtown Skagway to Lower Dewey Lake, a moderately difficult hike, albeit short. You can also hike out to Yakutania Point, which is an easy 20-minute jaunt to a place where humpback whales and sea lions are frequently spotted.
The Klondike Gold Rush National Historic Park is another stop you don't want to miss, especially if you have kids that may want to become Junior Rangers.
What's included on your Skagway/Yukon tour, and what you need to bring
Raymie includes the following amenities on every tour.
Bug spray (not always needed, but it sure is nice to have it when you do)
Hand sanitizer
Binoculars (it's still nice to have your own)
Spotting scope
Free souvenir cup and filtered glacier water
Free games and prizes for kids
Raymie recommends you have suitable layers of clothing and a jacket because weather can change dramatically, especially in the spring and late summer months. You can also choose from multiple lunch options. Enjoy a meal while sitting on the sandy beach of a glacial lake or stop at one of the incredible eateries along the tour route.
" I have the best job in the world! I get to venture through one of the prettiest and most diverse places on the planet and I get to share this place with wonderful groups of families and friends!  – Raymie
Why did you decide to visit Alaska? Midnight Sun Excursions has the answer. Contact us today to reserve a tour with Raymie.