WHITE PASS WONDERS & WATERFALLS
Up to 5 passengers $400
Up to 8 passengers $500
Up to 11 passengers $600
Up to 14 passengers $700
+ 5% city sales tax
Price is for the group, not per person.
PASSPORT REQUIRED!
The 2-Hour White Pass Private Tour begins with a city tour through the Historic Downtown District for a view of boardwalks and buildings from the Gold Rush era.
This excursion travels along the Klondike Highway which parallels the scenic WP&YR Railroad. We will travel over the rugged coastal mountain range with glacier fed waterfalls while amidst the temperature rainforest.
This area is rich in history and full of stunning views! There is always an opportunity to see wildlife on the pass such as Mountain Goat, Black Bear, Marmot and Ptarmigan. Photo stop options include but are not limited to Pitchfork Falls, Bridal Veil Falls and the Welcome to Alaska Sign.
The White Pass is the perfect backdrop for family and group photos. A stop at Bridal Veil Falls will give you the opportunity to drink ice cold glacier water! This water is collected on site and filtered for your safety.
This tour will continue to the beautiful Skagway Lookout. The lookout gives a panorama view of the big city (all one mile of it), the Dewey Peaks, your cruise ship and the longest, deepest fjord in North America.
EXCITING OPTIONS TO ADD TO YOUR PRIVATE TOUR
Invite Ella (Our official mascot) to join the tour!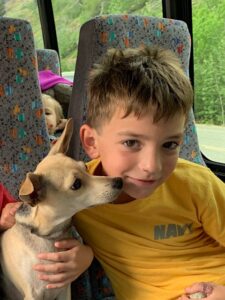 Ella is a 14 pound Italian Grey Mini Wawa rescue. She loves to come on tour and is great with kids! She can be a great addition to any tour! She is well mannered, quiet and affectionate.