VISIT THE YUKONS NATURAL WONDERS!
Up to 5 passengers $800
Up to 8 passengers $900
Up to 11 passengers $1000
Up to 14 passengers $1100
+ 5% city sales tax
Price is for the group, not per person.
PASSPORT REQUIRED!
---
The 7-Hour Best of the Yukon Private Tour includes everything on the 5-Hour Yukon Border Private Tour and more!
After stopping for a photo at the Welcome to the Yukon sign we will continue our journey into the Yukon Territory. We will visit the small First Nations Village of Carcross which lies along the shoreline of Lake Bennett and offers miles of sandy beaches. The village has a commons area with shops, coffee and gelato. There is also a bakery here with sandwiches and delicious salmon chowder making it a lunch option. From Carcross we will visit two of the Yukon's Natural Wonders.
The Carcross Desert is known as "The Smallest Desert in the World" and is a great place for a walk in the sand. From there we will visit the stunning Emerald Lake which provides a perfect backdrop for family and group photos. Traveling this far into the Yukon increases our chances of seeing wolves, fox, moose and caribou.
Additional stop options include a visit to the Tutshi Sled Dog Camp, a stop at the Yukon Suspension Bridge, a chance to gold pan like a sourdough and a walk to Lower Reid Falls with a visit to the historic Gold Rush Cemetery. Please make a note in your reservation if you would like to add any of these options.
EXCITING OPTIONS TO ADD TO YOUR PRIVATE TOUR 
Invite Ella (Our official mascot) to join the tour!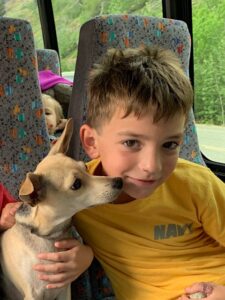 Ella is a 14 pound Italian Grey Mini Wawa rescue. She loves to come on tour and is great with kids! She can be a great addition to any tour! She is well mannered, quiet and affectionate.
Visit the Gold Rush Cemetery and Lower Reid Falls!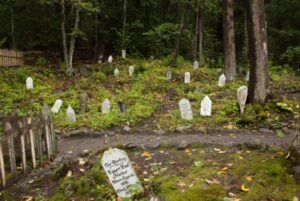 Take a step back in time by visiting the oldest cemetery in Skagway. Visit the grave of the famous outlaw Soapy Smith and the man who shot him, Frank Reid. You may also want to take a short five to ten minute hike to Lower Reid Falls, it is worth it!
Goldpan like a Sourdough!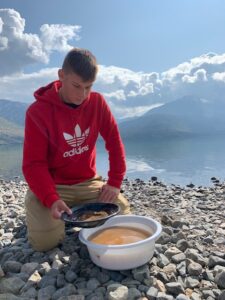 Test your skills and gold pan like the miners of 1898 did in the historic Klondike Gold Rush! Guaranteed Gold in every bag of genuine Alaska Pay Dirt! Glass vial included so you can bring home the gold! ($35 per bag)
Visit the unforgettable Tutshi Sled Dog Camp!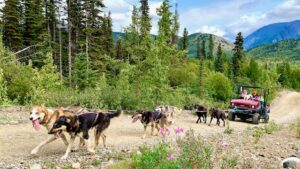 Dog mushing has been part of life in Alaska and Canada since its earliest days. Despite the great distances between some rural communities, traveling by dog team is often still the best way to get around. Today, dog teams are still used by rural residents who rely on teams to hunt and travel and because of its history and tradition dog mushing has become the state sport of Alaska!
This is a great opportunity to meet experienced musher Michelle Phillips who has ran the Iditarod 9 times and the Yukon Quest 7 times (Both 1,000 mile races!) A visit to the camp to meet the dogs and snuggle the puppies is only $5 per person. Want to see the dogs in action? Go on an unforgettable 15-minute ride through the forest with a musher and an all-star team of canine athletes! ($55 Adult $35 Child) Prices are subject to change and may not be available in 2022.
Beautiful views on the Yukon Suspension Bridge!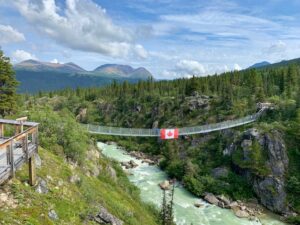 Walk the metal suspension bridge and get magnificent views of the raging Tutshi River rapids! There are educational interpretive areas, a coffee shop, a souvenir shop, and the Cliff Side Restaurant where you can curb your hunger.($9 per person) (PRICES ARE SUBJECT TO CHANGE) Prices are subject to change and may not be available in 2022.
Ride the White Pass & Yukon Route Railway!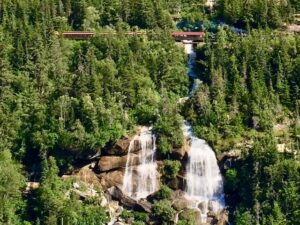 Built in 1898 the WP&YR Railroad is an engineering marvel. You can add a 27 mile one way northbound ride departing Skagway at 7:40am and arriving in Frazier at 9:45am where I will meet you. To book the train call 1-800-343-7373. ($90 adult, $45 Child) Prices are subject to change and may not be available in 2022.